HEND registers first space gamma ray bursts.
Russian scientific instrument HEND successfully operates on board of US interplanetary spacecraft "2001 Mars Odyssey". After 17 days of continuous work all systems of HEND operate normally, and all main parameters correspond to the nominal values. Because of moving away from the Sun the temperature of the main electronics board of HEND has decrease up to +17° C. At the present time spacecraft is on the distance of 13.548 millions km from the Earth.
8 and 17 may, 2001 HEND registered its first space gamma ray bursts /GRB/ (see picture: GRB 17 may, 2001). Data of HEND allows to reinstate the program of high-precision localization of GRB's source by method of interplanetary triangulation. Two interplanetary probes are necessary as a minimum for realization of this triangulation. HEND on "2001 Mars Odyssey" joined to US space probe «ULISSES» for work on Interplanetary Gamma-Ray Burst Timing Network (IPN).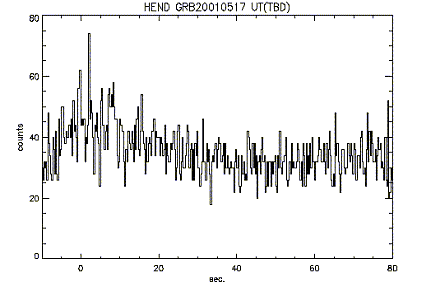 Instrument HEND has been developed in the Institute for Space Research by the order from Russian Aviation and Space Agency, and it has been implemented on the US spacecraft in accordance with the Implementing Agreement between the US National Aeronautics and Space Administration and the Russian Aviation and Space Agency.
HEND Principal Investigator                     I.G. Mitrofanov
May 19, 2001