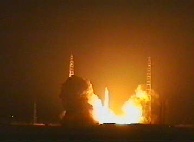 SCIENTIFIC OBJECTIVES OF THE MISSION


The main scientific objectives of this mission are to investigate the evolution of Mars, that is, of its atmosphere, its surface, and its interior. To reproduce the planet's evolutionary history, it is necessary to use various methods and make wide-scale, comprehensive studies of those physical and chemical processes which took place in the past and which continue there now. During the cruise phase from Earth to Mars, interplanetary space parameters will be measured and additional astrophysical observations conducted. The Mars-96 scientific experiments should help to solve the following problems:

The Mars surface:
a global topographic survey of the surface including local high-resolution studies of terrain;
mineralogical mapping;
elemental composition of the soil;
studies of the cryolithozone and its deep structure.
The atmosphere and climatic monitoring of the planet:
studies of the Martian climate;
abundance of minor components in the atmosphere (H2O, CO, O3 , etc), their variation and vertical distribution, and searches for regions with higher humidity;
global monitoring of the 3D atmospheric temperature distribution;
pressure variations over spatial and time domains;
characterization of the atmosphere near the volcanic mountains;
characteristics of atmospheric aerosols;
neutral and ion composition of the upper atmosphere.
The inner structure of the planet:
crust thickness;
magnetic field;
thermal flux;
search for active volcanos;
seismic activity.
Plasma:
parameters of the Martian magnetic field: its momentum and orientation;
the 3D distribution function; the ion and energy composition of plasma (near Mars and during interplanetary cruise);
plasma wave characteristics (electric and magnetic fields);
the structure of the magnetosphere and its boundaries.
Astrophysical studies:
localization of cosmic gamma-bursts;
oscillations of stars and the Sun.
---