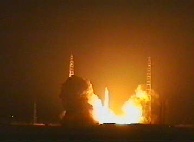 Experiment: SVET

HIGH-RESOLUTION MAPPING SPECTROMETER

STUDY OF THE MARTIAN SURFACE COMPOSITION AND ITS PHYSICAL PROPERTIES



Main scientific objectives:

spectrophotometry of the planet in absorption bands of some rocks that may exist on the Martian surface in order to determine the surface composition;
study of the nature of aerosols by measuring spectral and angular distributions off brightness both above the planetary limb and of certain cloud-covered areas;
TERMOSCAN data conversion into digital form compatible with that of the MORION system .



Instrument has 14 spectral subbands in the 260-900 nm ( a detector: PMT) and 6 subbands in the near-infrared. The spectrophotometer maps the surface in 32 lines with the mean resolution ( about 0,3 km at the pericenter), and 1 low-resolution IR line ( 3km). The instrument has a turnable entrance mirror permitting observations of different areas of the planet. The observation tracks will pass over the planet surface approximately in meridional direction. Taking into account the variable along-track resolution, about 50 percent of the Martian surface can be mapped during one-year observations from the Martian orbit.
Main characteristics:
Spectral range
260-900 nm and
0,95 - 2,6 m
Main detector PMT
32 pixels
Main field of view
32 · ( 10 '·10' )
Viewing range
-X -10 ° , +65 °
Power consumption
12 W
mass [kg]
16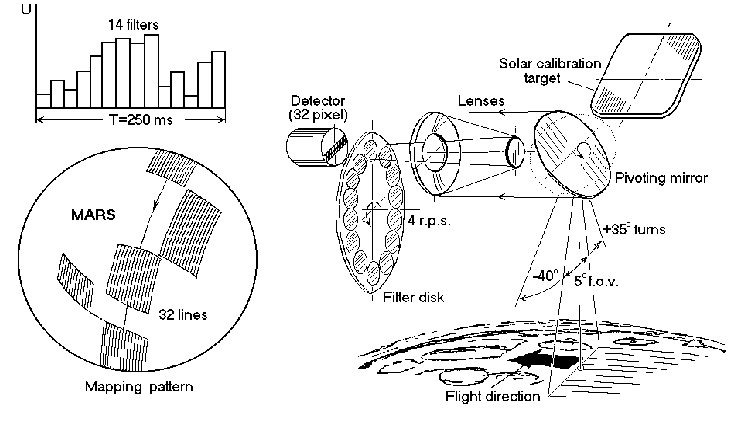 Cooperation: Russia, USA


| | |
| --- | --- |
| Contact persons: | L. Ksanfomality (PI), ksanf@mx.iki.rssi.ru |
---