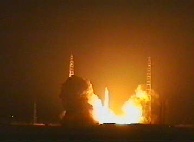 Experiment: NEUTRON-S

NEUTRON SPECTROMETER

MEASUREMENTS OF THE NEUTRON ALBEDO OF THE MARTIAN SURFACE



Main scientific objectives: investigation of water content in the surface layer of Martian soils.



Instrument measures the flux intensity of neutrons generated in nuclear reactions caused by the interaction of galactic and solar cosmic rays with surface regolith.

The instrument consists of two units of detectors with six counters of neutrons, and an electronics unit.

Neutron counters are built around 3He,
the reaction 3He(n, p) 3H + 0,768 MeV is used, the working pressure in counter is about 7 atm.



Main characteristics:
Energy range
0,01<Е<0,4eV
1<Е<2 keV
0,01
Measurement time
10 2 - 10 3 s
Angle of view
45°
Minimum detectable water content
0,5 weight %
Mass
8 kg
It is possible to detect hydrogen in the rock covered by a dry regolith layer up to 100 g/cm 2 thick and to measure the ice thickness up to 250 g/cm 2 in the polar cap.



Cooperation: Russia


| | |
| --- | --- |
| Contact persons: | Yu. Surkov (PI) geohi@sovamsu.sovusa.com |
---