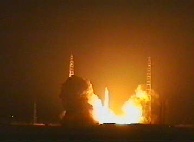 Experiment: MAK

QUADRUPLE MASS SPECTROMETER

MEASUREMENTS OF THE NEUTRAL AND ION COMPONENTS IN THE UPPER ATMOSPHERE OF MARS



Main scientific objectives:

the composition of the Martian upper atmosphere and ionosphere ;
measurements of height profiles of the atmosphere ion and neutral composition;
measurements and updating of the isotope ratios О17/O18, Ne20 /Ne22 , Ne20 /Ne21 , Ar36 /Ar38
measurements of seasonal and diurnal variations of the Martian upper atmosphere and ionosphere.




Instrument:a quadruple mass-spectrometer which operates in ion and neutral atom recording modes.
Main characteristics:
atomic mass range (a.m.u.)
1-60
resolution
R= M
dynamic range
107
sensitivity nmin (см-3 )
for ions
for neutrals
for neutrals H 2 and H

10-5
104
106
time needed to measure one spectrum
1с
mass
10kg




SCHEME of the MASS-SPECTROMETER




1 - housing, 2 - electrostatic lenses, 3 - cathode, 4 - ionizer, 5 - roods, 6 - reflecting electrode, 7 - electron channel multiplier


Cooperation: Russia,Finland.


| | |
| --- | --- |
| Contact persons: | E. Evlanov (PI) eevlanov@vmcom.lz.space.ru |
---