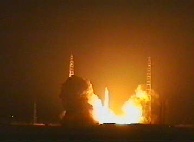 Experiment: EVRIS INVESTIGATIONS OF OSCILLATIONS IN STARS



STELLAR OSCILLATIONS PHOTOMETER



Main purpose of the experiment: investigation of pulsation, rotation and internal structure of stars, measuring photometric microvariabilities induced by these oscillations. Characteristics of the oscillations (frequency, amplitude and coherence time) are used to probe the physical stage of the stellar interiors, i.e., the equation of state, the convective energy transport and the angular momentum distribution.

Investigation methods: long--time, continuous, high--precision photometric observations of several bright stars during the cruise of the Russian MARS-96 spacecraft from Earth to Mars. The instrument composed of a photometer and a stellar sensor is installed in a pointing platform PAIS. The photometer is a 9 cm telescope with a photomultiplier, working in photon counting mode. The stellar sensor measures the position of the star with a CCD matrix and transfers this information to PAIS.
This experiment is the first one of that kind in the world.




| | |
| --- | --- |
| | |
| Diameter of the entrance pupil | 9 sm |
| Limiting stellar magnitude | mv<4 |
| Total number of observed stars | 10-20 |
| Spectral band passс | 300 - 800 nm |
| Assumed oscillations periods | 3 min - 2 hours |
| Assumed oscillations periods | 13' arc |
| Field of view of the photometer | 3° |
| Field of view of a stellar sensor | +/- 5" |
| Pointing accuracy | 10-4 |
| Precision on the photon counting rate | |
| Detection threshold of the oscillation amplitude | 10-6 |
| Telemetry allocation | 1 Mbyte/day |
| Duration of one observing session | 1 - 3 weeks |
| Power allocation | 5 W |
| Total duration of the mission | 200 - 250 days |
| Mass | 7,4 kg |




Cooperation::France, Russia, Austria


| | |
| --- | --- |
| Contact persons: | A. Baglin (PI), Annie.Baglin@obspm.fr G. Bisnovatyi-Kogan gkogan@mx.iki.rssi.ru |
---