MARS-96 Launch Countdown
November, 17 - Unsuccessful result of MARS96 mission
Mars-96 has fallen down to Earth surface
16 Nov 1996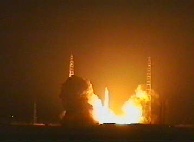 PROTON Rocket performed perfectly.
Launch parameters are close to nominal.
22.20 UTC: Telemetry transmission is going on.
On November 16, 1996 at 20 hours 48 min 53 sec UTC Launch Team of the Russian Space Forces has launched MARS-96 spacecraft from Baikonur cosmodrome. START AVI (2.1 MB)

20.43: 5 minutes readiness has been declared.
20.20 UTC: Launch vehicle control system has been prepared to launch. Additional fueling of launch vehicle.
20.05 UTC: Measuring complex tests launch vehicle and spacecraft systems.
19.55 UTC: Onboard systems have been connected to onboard power supply.
19.39 UTC: Service tower is leading off.
19.35 UTC: Launch team evacuation.
17.35 UTC: Second stage of fueling of launch vehicle has been completed.
Technological time break until 19.10 UTC.
16.10 UTC: Fueling of booster has been completed.
16.00 UTC: First stage of fueling of launch vehicle has been completed.
12.50 UTC: Board of technical directors of the Project have finally decided that MARS-96 spacecraft will be launched on November 16 at 23 hours 48 minutes 53 seconds MSK (20:48 53 UTC).
11:00 UTC: Preparation for fueling of of launch vehicle and booster began.

Baykonur region from NOAA 14 at 10:37 UTC
---
13, 14, 15 Nov 1996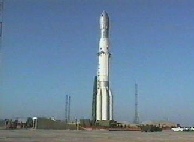 Technological procedures in terms of MARS-96 spacecraft launch preparation are performed since 04.30 until 17.00 UTC.

See also Baykonur Weather

---
12 Nov 1996
Service tower has been led up to launch vehicle at 09.00 UTC.
Technological procedures in terms of autonomous and integrated checking of systems of spacecraft, launch vehicle and launch complex have been started.
Launch vehicle aiming has been completed at 07.10 UTC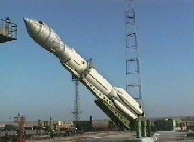 Launch vehicle installation on PROTON Launch Complex has been completed at 06.00 UTC
Installation AVI (5.2 MB)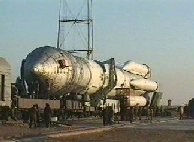 Launch vehicle transportation to launch pad has been completed at 03.00 UTC
Transportation AVI (2.9 MB)

---
Copyright © Space Research Institute (IKI)