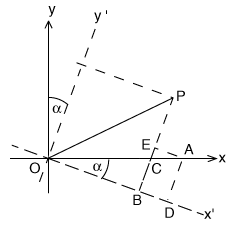 In a set of cartesian coordinates the point P has coordinates (x,y), and as shown in the drawing, x = OA, y = PA.

A second system with the same origin O has axes (x',y') formed by rotating the (x,y) axes clockwise by an angle α. In the same drawing, the new coordinates of P are x' = OB y' = PB.

Using the auxiliary points (C,D,E) and the auxiliary lines AE and AD, express x' and y' in terms of x, y, sinαand cosα.

Hint (follow this step by step in the drawing). The two triangles CBO and CPA are right angled, and since the sum of the angles in a triangle is 180°, the two sharp (acute) angles in each of them add up to 90°. Of those sharp angles, the two that meet at C are equal, and therefore the other two must be equal, too.
Of those other angles AOB is given to be equal to a. Therefore the angle APC also equals a, as marked. Try to solve the problem before continuing.
Solution
Remember: in a right-sided triangle with angle α, if you multiply the long side
by cosα, you get the side near to α
by sinα, you get the side opposite to α
This suggests paying special attention to the right-angled triangles whose long sides are x and y, namely triangles OAD and PAE. If possible, we will try to express x' and y' in terms of sides of those triangles.

x' = OB = OD–BD = OD–AE = OA cosα– AP sinα = x cosα – y sinα

y' =BP = BE+EP = AD+EP = OA sinα+ AP cosα = x sinα + y cosa

Let us rewrite the final result:

x' = x cosα – y sinα

y' = x sinα+ y cosα

Algebra drill: using the above two relations, can you express (x,y) in terms of (x',y')?
You must use sin2α + cos2α = 1.
Show also that the result is consistent with the first formula, if we exchange the roles of (x,y) and (x'y') and replace the rotation angle with – α).

That would also agree with the figure, in that that (x,y) are obtained by rotating (x',y') counterclockwise by an angle α, which may be viewed as a clockwise rotation by an angle (– α).

Click here for further discussion of this result, especially for those who have studied section #12A "How Orbits are Calculated."
How long is the line of latitude L if the Earth is a sphere and the equator-to-pole distance is 10,000 km? How long is one degree of longitude at latitude L?
Does the formula also hold for southern latitude?

(a) If cos X = 2 sinX, what is sin X? What is the angle X?
(b) Is this the only solution?
Hints:
(a) Use cos2X = 4 sin2X
(b) Since we work with an equation that only involves squares, any solution of it only stipulates sin2X and cos2X. However, the original condition also requires that cos X and sin X have the same algebraic sign.