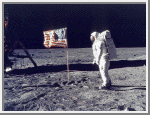 History of Space Exploration
There are things that are known and things that are unknown; in between is exploration. -Anonymous
Spacecraft Mission Summaries
This is a partial list of past, present, and future planetary and solar missions; for a complete account, please see the Space Exploration Chronology. Space exploration is becoming increasingly internationalized; as a result, the national designations listed here are not completely representative of the true nature of all projects.
Educator Guides
Additional History Resources
Views of the Solar System Copyright © 1997 by Calvin J. Hamilton. All rights reserved.