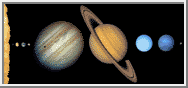 Views of the Solar System
Views of the Solar System presents a vivid multimedia adventure unfolding the splendor of the Sun, planets, moons, comets, asteroids, and more. Discover the latest scientific information, or study the history of space exploration, rocketry, early astronauts, space missions, spacecraft through a vast archive of photographs, scientific facts, text, graphics and videos. Views of the Solar System offers enhanced exploration and educational enjoyment of the solar system and beyond.
<! Views of the Solar System has been created as an educational tour of the solar system. It contains images and information about the Sun, planets, moons, asteroids, comets and meteoroids found within the solar system. It contains over 220 pages of information, over 950 high-resolution images and animations, and over 880 megabytes of data. The image processing for many of the images was done by the author. This tour uses hypertext to allow space travel by simply clicking on a desired planet. This causes information and images about the planet to appear on screen. While on a planet page, hyperlinks travel to pages about the moons and other relevant available resources. Unusual terms are linked to and defined in the Glossary page. Statistical information of the planets and satellites can be browsed through sorted lists. The History of Space Exploration contains information about rocket history, early astronauts, space missions, spacecraft and detailed chronology tables of space exploration. The Table of Contents page has links to all of the various pages within Views Of The Solar System. >
---
Contents | Weekly Feature | What's New | Mirror Sites | Image Index | Solar System Introduction
Sun | Mercury | Venus | Earth | Mars | Jupiter | Saturn | Uranus | Neptune | Pluto
Asteroids | Comets | Meteoroids & Meteorites | History | People
Sun, Planet & Satellite Data | Planetary Data Browser | Glossary | Credits

Awards and Recognition
Software to Display Images and Play Movies
For questions or comments send e-mail to: cjhamil@lanl.gov or use this e-mail form.

Copyright © 1997 by Calvin J. Hamilton. All rights reserved.