---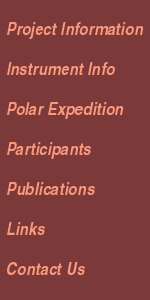 Marses Instrument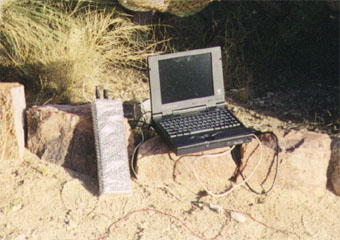 Tem Fast instrument currently used in Marses experiments at recent field tests in Arizona University
Currently we use a Tem-fast 48 sounding instrument that is based on time domain electromagnetic sounding technology. Tem-fast 48 is a portable geoelectric sounding instrument that was made to meed requirements in small dimensions, simple and intuitive usage, and reliability. The depth of surface souding is about 300-500m using TEM technology. Areas of application are following:
prospecting of deposits,
hidrogeological research,
geological survey, required before construction of buildings,
ecological research,
archeology and subterannean objects search,
monitoring of a high risk industrial and engineering objects,
research and tests of rock samples.
Despite many competitors' instruments with similar areas of application, Tem-fast 48 has reasonable advantages among small depth sounding devices.
Because Tem-fast 48 hardware has been developed to be employed in space research missions it has unique portability and dramatically low in weight. It fits inside suitcase with antenna, supporting notebook and batteries. It weights 5 kilos;
Usage of PC notebook for data processing make it easier to view the results, process, them, prepare report and send it to headquarters;
Tem-fast supplies reliable data in areas with hign EM distortions about 1 volt and higher, such as industrial zones and urban streets;
Sounding parameters can be easily adjusted from PC;
Tem-fast 48 sounding instrument have been initially developed to be employed within the frames of Mars'94 project and should be installed on Mars lander to conduct TEM sounding of Martian surface. Thus instrument developers should meet strict requirements for weight, dimensions and steady reliability even in extreme conditions. "Earth" modifications of this device also meet "space-ready" requirements.
Tem-fast 48 is shock resistable. It can survive falling from 3 m heigh without loosing the work capacity,
provides accurate measurement data under rapid changing of temperature (up to 3 ° Ñ per minute),
if wireless modem is used to communicate with Tem-fast 48 it will be possible to handle measurements distantly,
it has automatic scale adjustment system and a testing system, that is monitoring accuracy of results during measurement process.
The Tem-fast 48 sounding instrument consists of following devices:
unipolar rectangular impulse generator
measurement module, which registers signals,
controlling module,
power supply module (battery)
All the devices are assembled in a single block. The block diagram of the sounding instrument is outlined below.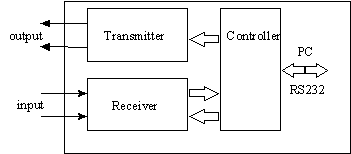 MARSES project Web page design and maintenance
Fyodor Babkin