Marses project participants

---
Yuri Ozorovich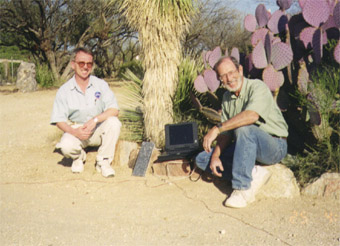 Joint field measurement with HydroGeophysics, Inc. (Tucson, Arizona) Yuri Ozorovich (on the left) with James Fink (President of HydroPhysics, Inc.)
Affiliation: Space Research Istitute (IKI)
Function: MARSES Project principal investigator
Yuri Ozorovich was born in Ussurijsk, Primorsky region, Russia. He has a PhD. degree in Geophysics at Institute of Atmpspheric Physics of Russian Academy of Sciences and specialise in the field of subsurface sounding. From 1979 to present time Yury is working as a senior scientist in IKI. He has participated in the number of international space research missions devoted to research of planetary subsurface structures. In this area he has a number of well-known publications. Yuri Ozorovich is a member of the following scientific bodies: EEGS (since 1998) and IGHPA (1997). Also Yuri Ozorovich is a keen windsurfer and member of RFA (Russian Funboarding Accociation).
Links:

---
Boris Zoubkov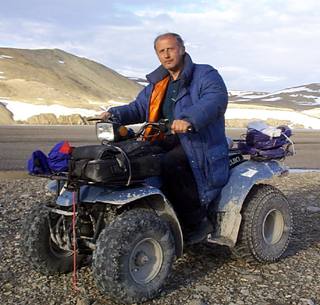 "Let's rock..." Boris Zoubkov is taking a ride on 4x4 ATV during expedition at Devon Island
Affiliation: Space Research Istitute (IKI)
Function: MARSES Project hardware development leader
Boris Zoubkov was born on December 2, 1946 in Moscow, Russia. Boris earned an engineering degree from the Moscow Institute of Communication in 1972. Boris now works at the Space Research Institute of the Russian Academy of Science, where he also earned a doctoral degree in experimental physics. Boris' is mostly interested in mass spectroscopy for investigation of asteroids, comets and planets. He has participated as the technical leader in the creation of the Particle Mass Analyzer (PUMA) 1980-1984), mass spectrometer for the Phobos spacecraft (1984-1988), and participated in the Marsokhod rover project (1988-1996). He has a son born 1979 and a daughter born 1984. Boris is here on Devon Island to evaluate an instrument to be used to study subsurface layering on Mars. Test results from this instrument here at Haughton Crater will also be used to study the subsurface layering of the crater deposits. In a Marses project Boris is playing a leading role in in providing and organising the field measurements and in processes of development and modification of sounding instrument hardware. He enjoys water skiing during free time at Summer.
Links:

---
Fyodor Babkin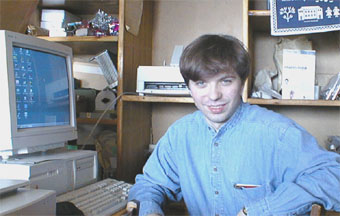 Fyodor at his workplace in IKI. He is getting ready to design MARSES homepage

Affiliation: Space Research Istitute (IKI)

Function: MARSES Project junior researcher

Fyodor Babkin was born on May 24th, 1976 at Moscow, Russia. He has recently graduated from Moscow Institute of Electronics and Mathematics with Degree in computer systems and networking engineering. His undergraduate work was centered on optimization of broadband mail interchange in global networks. He is employed in MARSES project as a software developer. He would develop new MARSES software based on neural computing technology. Also Fyodor designs and supports projects' homepage. He go in for lawn tennis, enjoys listening, playing music and going out in his leisure time.

Links:


MARSES project Web page design and maintenance
Fyodor Babkin